The Kandi Factory Winner Matthew Solomon claims he's being Blackmailed by Kandi's "Camp" by NMD
The Kandi Factory has moved to Sunday nights in hopes that the ratings pick up.  Kandi has a lot of fans, and it's a positive,  interesting show with some real talent, so it's surprising that the rating haven't been great.  I guess people would rather see over-bleached blondes screaming obscenities than Kandi and her team lifting people up and giving them a chance. Not that her show is without drama.   It seems like Kandi can't catch a break lately.  Not only are her ratings low, but she's in a legal battle with former castmate Kim Zolciak over Kim's one hit wonder "Tardy for the Party," has been slammed by former friend Lawrence for not releasing his song "Closet Freak", and has been dealing with gripes from her first winner, Matthew Solomon.  And now he's accusing her "camp" of trying to black mail him.
Last year Kandi Burruss shot a pilot for the show that was successful enough to lead to a green light for a full season.  The show's format is for two contestants to be given an original song written by Burruss, learn choreography, get a makeover, dig deep to get an emotional connection to the song, and give a performance.  Burruss and her team choose one of the two as a winner.  The prize is  the song and a video.
Matthew Solomon won the pilot, but at some point his song was pulled from ITunes.  It's unclear why, but he's been griping about it on twitter for months, causing Kandi's manager, Don Juan, to tweet this on April 24th:  "negativity is bad: Cease and Desist! follow your contracts!"
When asked about it, Kandi tweeted:  "he got a video & his song released. That's all he was promised." 
The song was put back on ITunes on the 29th.  It's still unclear why it was pulled originally, but there could be all sorts of reasons.
UPDATE – Don Juan clarified that Bravo controls the songs, not Kandi – so they put it back up on ITunes and he's heard that it only sold around 2000 copies.
All seemed well until some other people started tweeting Don Juan about the story yesterday.  Don Juan responded by tweeted a link to the show "World's Strictest Parents," to give people some insight into Matthew and his loose relationship with the truth.  Matthew starred in the show as a troubled teen in 2010. You can watch the show on this link.
Perhaps that was what Matthew was talking about when he tweeted this: "@Kimzolciak Y does Kandis "camp" want to black mail me? Her manager does her dirty work!"When u play dirty u never WIN" #TRUTH @NeNeLeakes"  
I have to chuckle that Matthew's tweeting NeNe and Kim about Don Juan.  I seem to remember poor Don Juan been stuck on a bus with NeNe and Kim screaming at each other for hours.  Dirty is not a word I'd use to describe Don Juan.  He's been on the Real Housewives of Atlanta with Kandi since she joined the show and has been as steady as a rock.
As for Matthew, the truth of the matter is that it's the exposure on national TV that is the real prize, and Matthew should be grateful for the experience.  I hope he's enjoying the extension of his 15 minutes of fame, because biting the hand that gave him an opportunity won't open any doors for him.
You can watch another of the winners, Lizzie, in her video:
Tonight is an unusual lineup for Bravo.
Andy Cohen will have a one-on-one one-hour interview with NeNe Leakes at 8 pm eastern.  In the clips I've seen NeNe will dish on a whole lot of things, including her opinion on New Jersey (and let's just say she thinks that any new girls should respect the ladies that first made the show a hit – because they wouldn't even had a chance to BE on a show if the show wasn't there).  And then if viewers don't flee when Married to Medicine airs, Kandi might have some viewers when her show airs at 10 pm.  The show promises to be in interesting one.  From Bravo's website:
ANYTHING? ANYTHING!
"Both protégé's stories hit close to home for Kandi this week. In her most emotional challenge yet, she mentors Cory, a talented 18-year-old theater geek who suffers from Autism, Tourette's syndrome, ADD and OCD. Cory is determined to overcome the odds, prove everything wrong and launch a music career with his soaring vocals. Up against Cory is Kristin, a stunning 25-year-old who is trying to fulfill her lifelong promise to pursue her musical dreams she made to her brother who died in a tragic accident. She decides to channel the pain into a heartbreaking ballad called "If You Were Here." Will Kristin be able to deliver the emotional performance the song deserves?"  The previews also show that Ruben Studdard (American Idol winner the year Clay Aiken came in Number 2) will guest star.
This show isn't about a music competition, it's about empowering people to dig deep, work through their issues and gain self-confidence.  I hope the move to Sunday night brings up the ratings enough that the show will be successful.
_________________________
New Jersey preview Video – "My Parents come to the House and they Look at You like You're the Devil" by NMD
Bravo has released a preview for the Real Housewives of New Jersey.  You can watch it here.  It looks to be another emotionally-packed season.
First the fun stuff.  Joe Giudice does some trust building thing where he falls backwards and is caught by Melissa.  Rosie takes Joseph for a drive in Richie's Ferrari.  And I couldn't help but laugh at Milania swinging on a pole saying "I'm Melissa," even though I know I shouldn't be laughing.  Bad NMD.
There are some bonding scenes – looks like they try skydiving to bond.
It looks like a lot of relationships are in trouble, but that's probably the editing.  Kathy shakes her head about Richie not valuing her opinion and says she can't change him (run Kathy run).  Albert says he doesn't want his "balls broke" so STFU to (probably careful editing) Caroline, and the kids worry about their marriage.  
Jennifer Dalton tells Melissa "Somebody said that you've been cheating on your husband".  Melissa's jaw drops.  So I guess Jennifer is the one who is bringing that storyline to the show.  Caroline voices over, "Teresa said you don't know the real Melissa, you know what, maybe I don't."   Melissa tells Joey that she "gave her a taste of her own medicine," and Joey exclaims: "Are you kidding me, my parents come to the house and they look at you like you're the devil."  (Uh oh looks like Melissa is getting the bad edit this season.)
Teresa is on speaker phone with Kathy (with Jaq in the background) and says "I'm kind  of in this mess because of Jacqueline."  Jacqueline rips the phone out of Kathy's hand and starts yelling that Teresa wanted her to do Teresa's dirty work.  Melissa gets on her knees and begs Teresa to leave them alone.  Teresa and Rosie get into an emotional fight about who it's "gonna be on".  I think this has to do with Teresa's father's failing health and all the fighting.  And it ends with footage from the fight.
Buckle up.  It's coming back.
__________________________________________
Plainviewsue with Teresa
Getting my very own @MilaniaHairCare purchase signed by @Teresa_Giudice !!!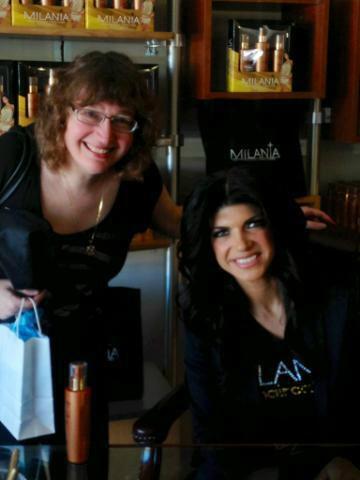 Standing outside Cactus Salon with a lifesize billboard of @Teresa_Giudice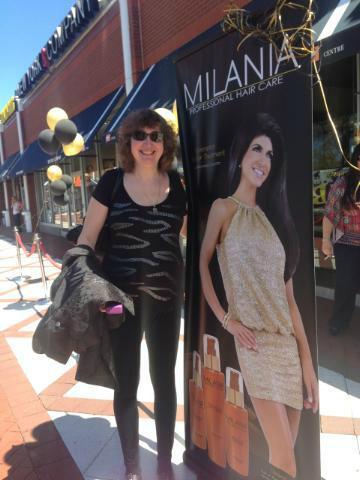 Meeting @teresa_guidice outside of Cactus Salon!